Lowelands Jack Russell Terriers |
home


AVAILABLE ADULTS

Available adults will be sold as follows:
* Any dog, male or female that someone would like to adopt as a pet only, to be spayed or neutered, will be $200.
*Breeding/Show prospects will be $350 for males and $500 for females. The 2 available males are both proven; 4 of the five females have had one litter and one female is 1.5 yrs old and could be bred on her next cycle.
Best Viewed in Full (Maximum) Screen
Scroll to the bottom to see pedigrees.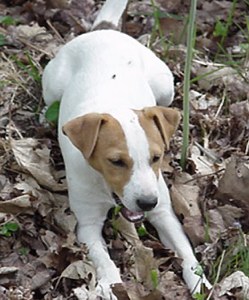 Lucie is a great dog, one of the few adults I would recommend as a pet. She has a very calm and loving personality. She is available now to either a loving companion home on a spay clause or to a small hobby breeder. A pet home is preferred.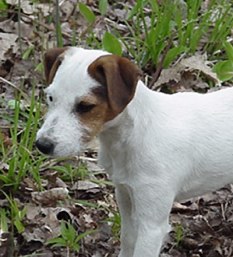 Marnie loves people but warms up to new dogs slowly. She is terrier all the way. In a pet home, she would do fine if she were the only dog. Marnie has 4 puppies right now, so won't be available until her puppies are weaned.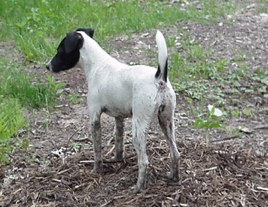 Gracie is a great girl, and would make a great pet. She gets along well with other dogs. She is one of my jack's that I can trust with my pomeranians. Gracie has a loving and sweet personality. She is a climber though, so would have to have a fenced yard or walked on a leash ( she is leash trained).
A pet home would be perferred.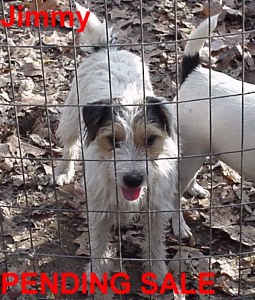 Loweland's Darling Durante'
Ch. Lappan's Whos' on First X Lowe's Marnie of Lowelands
Jimmy is a proven stud and is rough coated. Would be a good show prospect.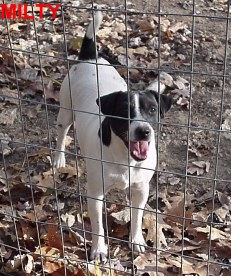 Loweland's Marvelus Mr. Berle
Milty is a proven stud and is a very nice boy. Great personality,smooth coat. Could do it all; stud, show, pet, breeding.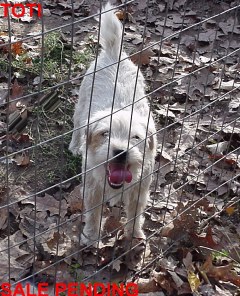 Loweland's Ms. Feilds
Toti is currently pregnant and will be available after her litter is weaned. A notice will be placed on the puppy page with her available puppies.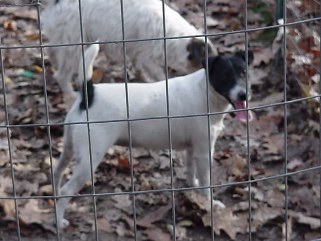 Loweland's Ms. Callabash
Callie is a great smooth coated girl, a year and a half old, never bred, but could be on her next cycle. Awesome conformation, showed a couple times but needs to drop a couple pounds. Would finish easily.
The following are assorted pictures of the about dogs: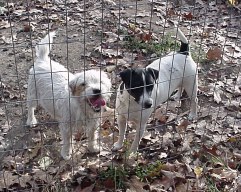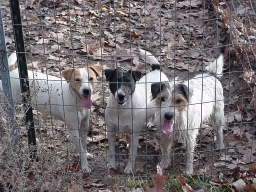 Toti Milty Lucie Callie Jimmy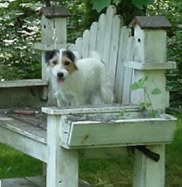 Callie Jimmy Milty
Pedigree of Lucie and Gracie
Sire

Lonely Dime

Wh./Tri

Sire

Alne Billy the

Broomstick

Trumphmoor

Exmoor Flashman

Winnie the Witch

of Hardytown

Dam

Howlbeck Lucky

Day

Ch. Howlbeck

Uno-Who

Howlbeck Penny

a Day

Dam

Farmingotn Track Tart

Wh./Blk

(FDS)

Sire

Ravenswood Cryus Of Farmington

Meynell Radar of Ravenswood

Ravenswood Target

Dam

Farmington Track

Dixie

Hunter's Point

Cowboy

Hunter's Point

Wicket

Pedigree of Marnie
Sire

Lonely Dime

#RM319704/01

Tri




Alne Billy the Broomstick




Trumphmoor Exmoor Flashman




Winnie the Witch of Hardytown






Howlbeck Lucky Day




CH. HOWLBECK

UNO-WHOTri

Howlbeck Penny a Day




Dam

Farmington Track Della

RM257317/02

Wh/Br

Top-T Hill Jackson

Wh./Tn




Top-T Hill Troy

TOP-T hIll Raincheck

Wh./Tn




Farmington Track Chubby

Tri

Ravenswood Cyrus Of Farmington

Farmington Track

Shameless

Wh./Blk.

Pedigree of Ch. Lappan's Mr. McTaggart
Sire

U-GRCH Hoelio

Lord Truim

Sire

Ridley Robber of Belmorr

Ridley Red Alert

Hursley Pilot

Ridley Redwing

Foxworker Tara

West Kent Sam

Foxworker

MacLean

Dam

Hoelio Kirsty

Glenholm Percy at Foxwater

Ridley Robber

of Belmorr

Heliwar Skat

of Glenholm

Heliwar Pip

Heliwar Oten

Heliwar Biscuit

Dam

UKC CH Glenholm Patience

Sire

Glenholm Quinto

for Bridgegard

Somerwest Trump Broxmouth

Clyslands Legend




Somervale Katey

Gleholm Gigha

Heliwar Ben

Ridely Reckless

of Glenholm

Dam

Glenholm Clootie Dumpling

Ridley Renegade ofWestbeck

Ridley Red Alert

Clystlands Belinda Ridley

Glenholm Chrissie

Ridley Robber of Belmorr

Heliwar Skat of Glenholm

Pedigree of Ch. Lappan's Who's on First
Sire

CH. HOWLBECK

UNO-WHO

Sire

Howlbeck Pacific

Diver

Howlbeck Marine

Diver

Pebbles

Dam

Howlbeck Tinker

Tailer

Howlbeck Piper

Ground Hill

Twist

Dam

Bowery Tassle

Sire

Badak Hashan

Fell Flyrod

Foxfeild Tack

Whimisical Pepsi

Dam

Bowery Climber

Meynell Crippin

Bowery Tordy