Lowelands Jack Russell Terriers |
home


Available Puppies

An AKC Registry Kennel, All parents

AKC registered.

Lucie,Gracie, and Toti all have puppies

SCROLL DOWN TO SEE FIRST PHOTOS

(Viewing in "MAXIMIZED" full screen is best)

LUCIE'S LITTER

Lucie's pups are ready for new homes now.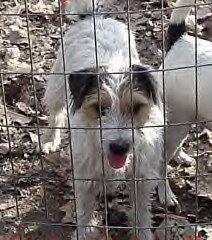 X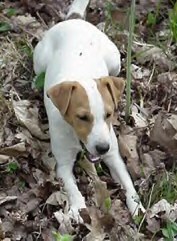 Jimmy Lucie
Puppies are:
Loweland's Darling Durante' X Lowe's Gracie of Lowelands
See the sire on the Available Adults page aka Jimmy
These puppies are now ready to go to new homes. They are available for $250 as pets or $350 as breedable pets.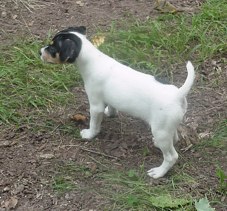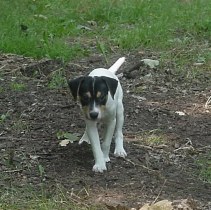 "Mac" is a great boy. He is smooth coated with a nice head. Sweet and extremely laid back attitude. Great pet or breeding prospect.
We will ship, weather permitting. We use Northwest airlines.
The cost to ship is $150-175.
Gracie had 3 puppies on 10/12/03.
( 2 boys and a girl)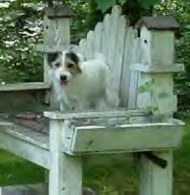 X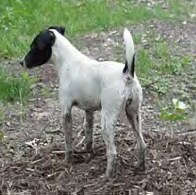 Jimmy Gracie
(Loweland's Darling Durante' X Lowe's Gracie of Lowlands)
FIRST PICTURES OF GRACIE'S PUPPIES
(Taken 10/22/03)
These puppies are available for $350 ea. as pets, or $500 for breeding or show.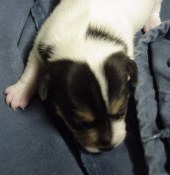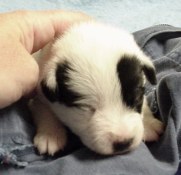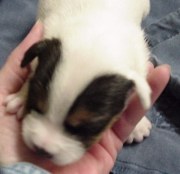 Tri Girl Rough B/W Boy Tri Boy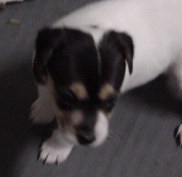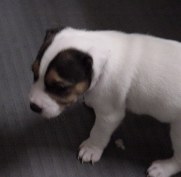 Tri Girl at 6 wks B/W boy at 6wks Sale Pending
The B/W boy in the center will be rough coated as an adult. The male and female tri-colored pups are smooth at this point but may develop into broken coateds as they mature. These puppies are 7 weeks old and weaned. They could go to new homes Thanksgiving week. We are unable to ship puppies this young.
Toti's Litter
Toti had puppies on 10/31/03. These will be Christmas puppies. At this point there are 2 male pups available. One has b/w on its head, the other has a tri colored head, both have white bodies. Deposits will be accepted at the time of reservation, and must be paid in full the week prior to Christmas, to hold until time of pick-up.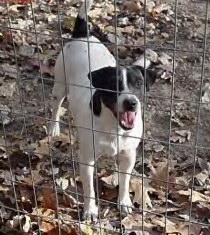 X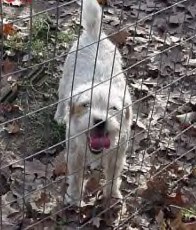 MILTY TOTI
These are the babies: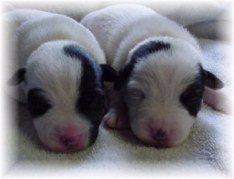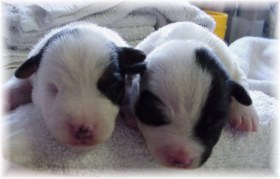 These are 2 pictures of the same 2 boys. The one witht he black patch on one eye is the b/w boy and he will stay b/w. The other boy is actually a tri-colored boy with blacka nd tan markings on his head, it just didn't show up very good in the photo.